Return to FAQs page
---
What are some effective music teaching strategies that MusicTeacherNotes uses to help music teachers teach students?
MusicTeacherNotes music lesson software helps private music teachers manage their music students and helps music students learn music faster. There are several effective music teaching strategies that MusicTeacherNotes provides to accomplish those goals.
These include:
Private Library Sharing
All members have their Private Library. The Private Library is where members can save web links, documents, images, and videos. Teachers can pre-record videos of the songs they teach and save those videos to their Private Library. Teachers can then share(upload) those videos, links, documents, and images with their students. Students can then add anything shared with them by their teacher(download) to their private library. Students can then take the videos shared by their teachers and use them to create practice plans. Students can change the tempo(speed) of the video, clip the videos into segments, and loop the video or segments to repeat over and over again. This flexibility allows the student to tailor their practice session and use the power of repetition to enhance learning.
Electronic Music Journal
Assignments written in a paper journal can get lost or destroyed. Also, paper journals are difficult to search through. An electronic journal provides a permanent and searchable record of each music assignment. Parents and students can create structured practice plans from digital entries. Teachers, parents, and students can view assignments, view progress, and create new assignments. The result is that students know what to practice, and parents are significantly more involved in their children's music lessons. Electronic music journals allow for better understanding, goal setting, and an improved music lesson experience.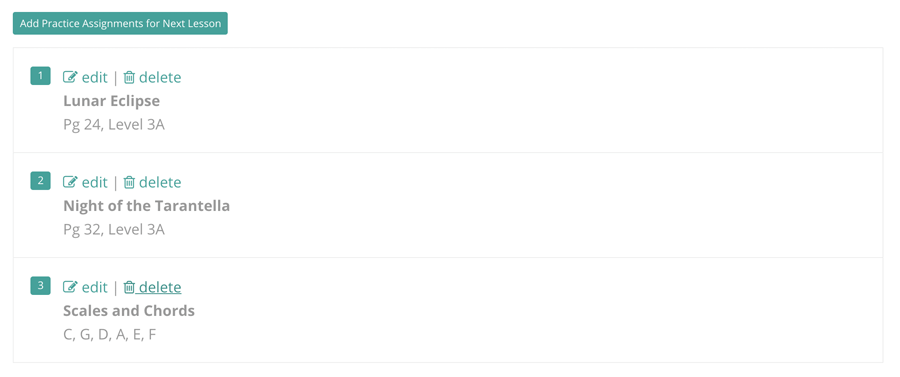 Rewards
MusicTeacherNotes motivates younger students to practice by using multiple incentives. MusicTeacherNotes is music education software that makes music practice fun. Positive reinforcement through our rewards program encourages kids to stay engaged and eager to learn. Kids earn Music Bucks, stickers, and achievement awards as they log practice. The result is a much more positive approach to getting kids to practice their instruments, which not only helps kids learn faster; it increases the likelihood that they will become longterm students.