Return to FAQs page
---
How can I use video to help improve my music lesson business?
There are several ways that MusicTeacherNotes video features can enhance a private music teacher's business. We will explain just a few, but there are many more that you'll discover as you use MusicTeacherNotes.
Students often struggle with common fundamental skills, like how to play scales, songs, chords, riffs, etc. Instructional videos can make learning those skills easier for students; only we don't provide the video. You do. You likely teach many students the same songs and skills. MusicTeacherNotes lets you record a video of you demonstrating a song or skill to share with your students. Video cannot replace the benefits of having a dedicated music teacher. However, it can supplement a teacher, making private music lessons much more productive.
MusicTeacherNotes does more than just let you share a video with your students. Students can slow down the video tempo and clip a video into short segments so students can focus on the specific parts they need to learn. Then, students can play along at a tempo they are comfortable with, helping them master rhythm and practice much more in a short amount of time.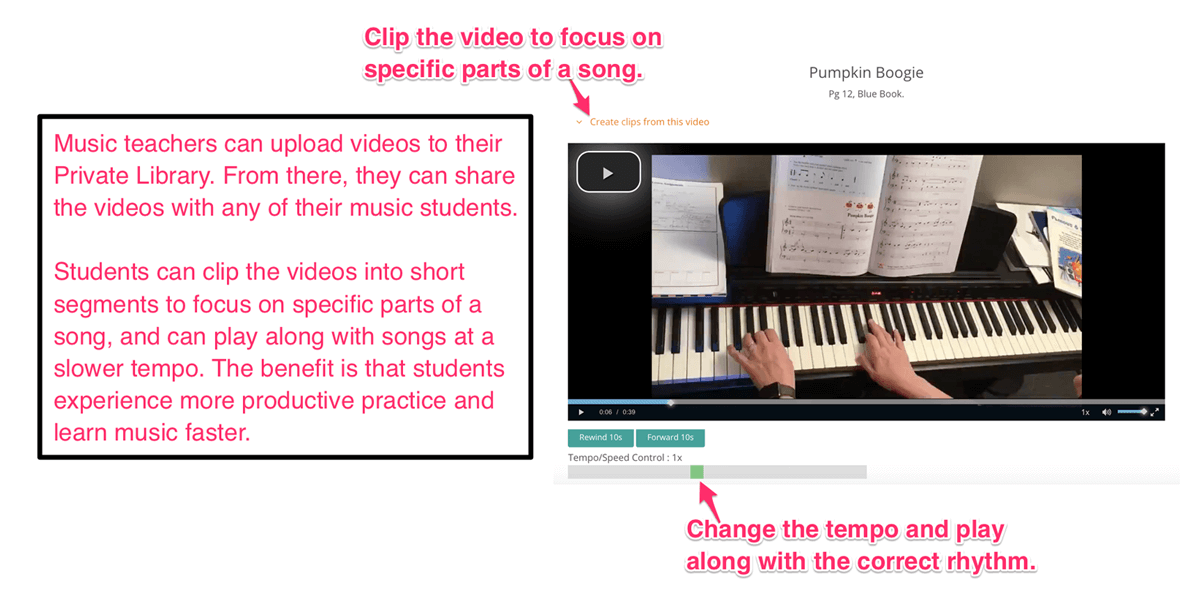 For teachers, video can improve the productivity of music lessons. Teachers can record themselves playing songs they commonly teach, then upload them to their Private Library. This allows teachers to share their recorded videos with their students when they teach those songs.