Return to FAQs page
---
How do I clip a video?
MusicTeacherNotes uses video features to help music teachers and students with private music lessons. Video clipping is one such video feature. Students can video their music teacher demonstrating how to play a song and upload it to their MusicTeacherNotes Private Library. Once uploaded, students can split the video into segments (e.g., clips) that allow them to focus on specific parts of a song. Students can then play the clip back at a slower tempo and play-along with the clip as it repeats again-and-again.
To clip a video, find the video you wish to learn in your private library after you uploaded it. Then click the "clip this video link."

Then click the "Make clips from this video" link. Watch the full video, and use the time indicator on the video to determine the "Clip From" and "Clip To" values.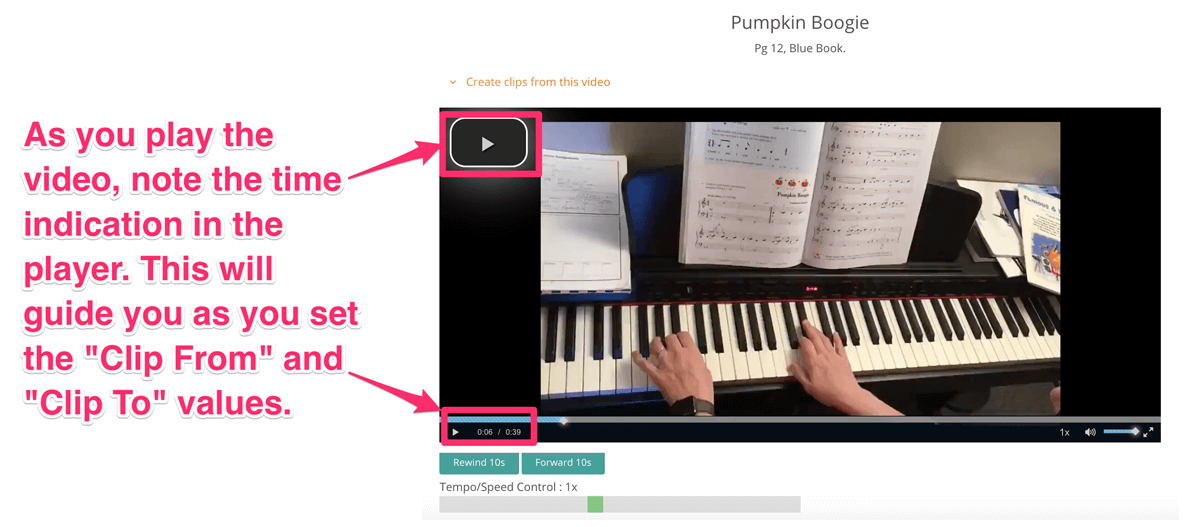 Set the "Clip From" and "Clip To" values. Repeat for as many clips as you wish to make from the original video.

Set whether you want the video to autoloop or have timers added to each clip.
Click the "Create Clips" button when you have all of the clips ready. The following video will guide you through the process of clipping videos:
Video clipping is one of the best music practice strategies that students can use for their daily music practice.