Return to FAQs page
---
What is my Library?
One of the tools in MusicTeacherNotes music teaching software is something called your "Library." Think of your Library as a place to save, find, and share resources. Resources can be videos, files, and links that can help you teach your students better.
There are two library pages in your account:
Your Private Library, and
The Public Library.
Understanding and using the Library Feature will improve the efficiency of your music lesson business. It can also help your students learn faster and increase the likelihood that they will continue taking music lessons from you for a long time.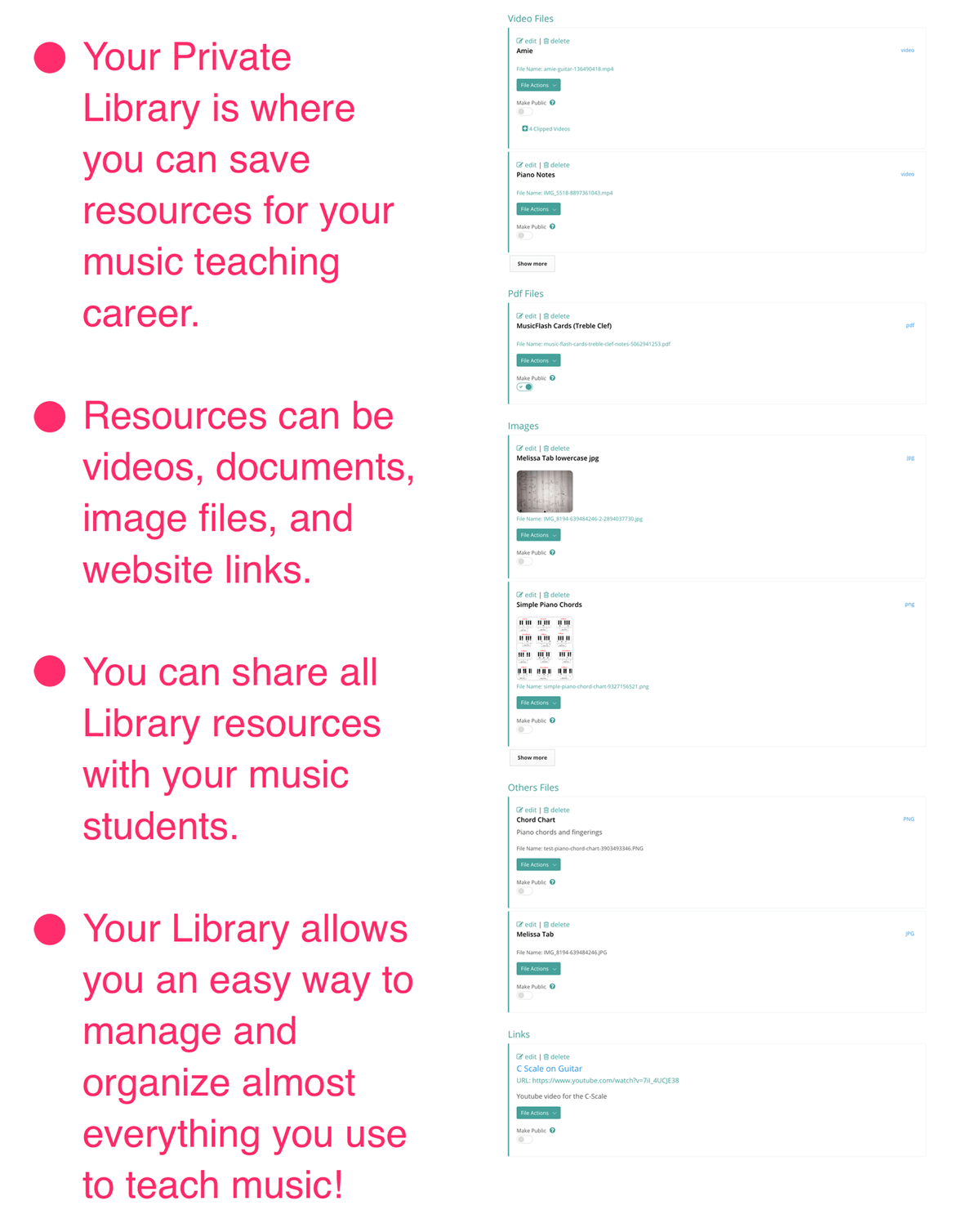 Understanding the Private Library
Anything in your Private Library is yours. You can watch, use, and share Private Library resources with your students. When you upload a file or video or save a link, you are adding that resources to your Private Library. Only you can see what is in your Private Library unless you share it with a student or make it public.
Understanding the Public Library
Currently, the Public Library is in Beta Mode. The idea of the Public Library is for our staff to add videos, files, and links. Over time the Public Library will grow to an extensive collection of materials, videos, and links that you can use to help you teach your students. You can turn the "Make Public" option on for a file in your Private Library, which will add it to the Public Library.
Anyone with a MusicTeacherNotes account can access the Public Library, including students and parents. Members can search through the Public Library to find videos, files, or links to add to their Private Library. Clicking the "check out" option will place an item in the Public Library to the member's Private Library.
How to use video in your Library
There are several ways you can use video to improve your music teaching career. You can video record yourself, demonstrating how to play a song you teach, then upload the video to your Private Library. A useful technique is to video yourself demonstrating many songs that you teach. Then, upload each video to your Private Library. When you assign one of those songs to a student, you can share the video with that student's account. The student will be able to watch the video, clip the video, and slow the tempo so they can learn the song much faster than they would without the benefit of video.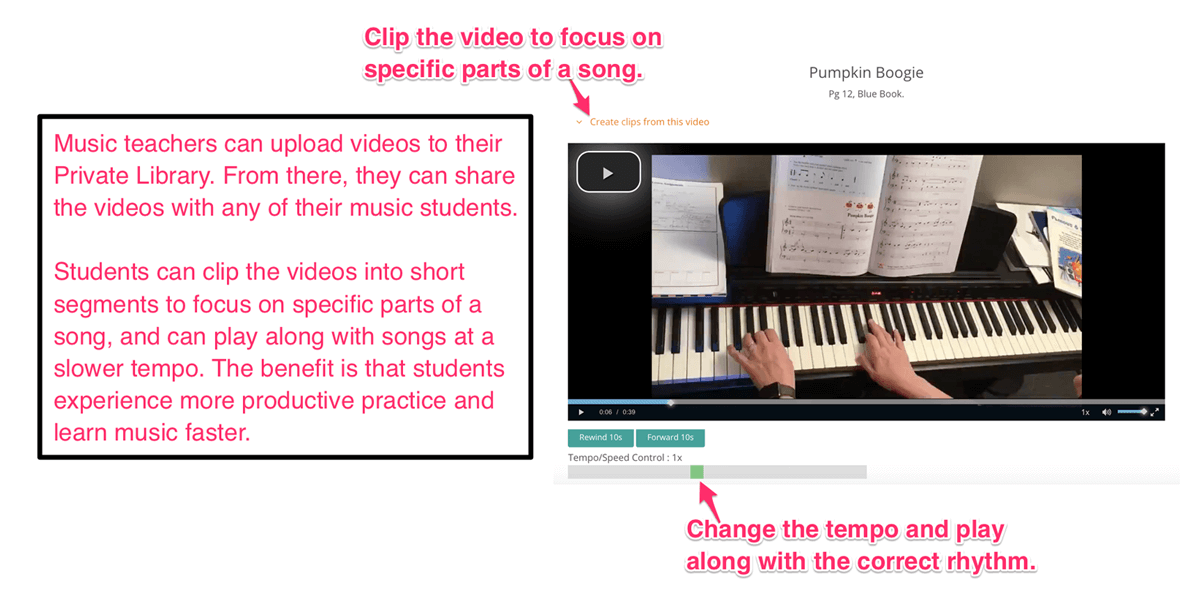 Another idea that works well is for students to video you demonstrating how to play a song during a music lesson. Students can do this using a cell phone camera. Then they can add that video to their own Private Library, and you can then add it to your Private Library, as well. We recommend that you build a bank of videos that demonstrate how to play songs from music books you often teach. It's a great way to make your music lessons more productive.
How to use files in your Library
Files such a PDFs, text files, and image files can also be uploaded and saved to your Private Library. For example, you can upload PDFs with flashcards showing music notes, chord diagrams, or anything that you might want to share with students. Every file you upload can be quickly shared with your connected students. Simply click the share option, and you will be guided on how to share the file with your student's account.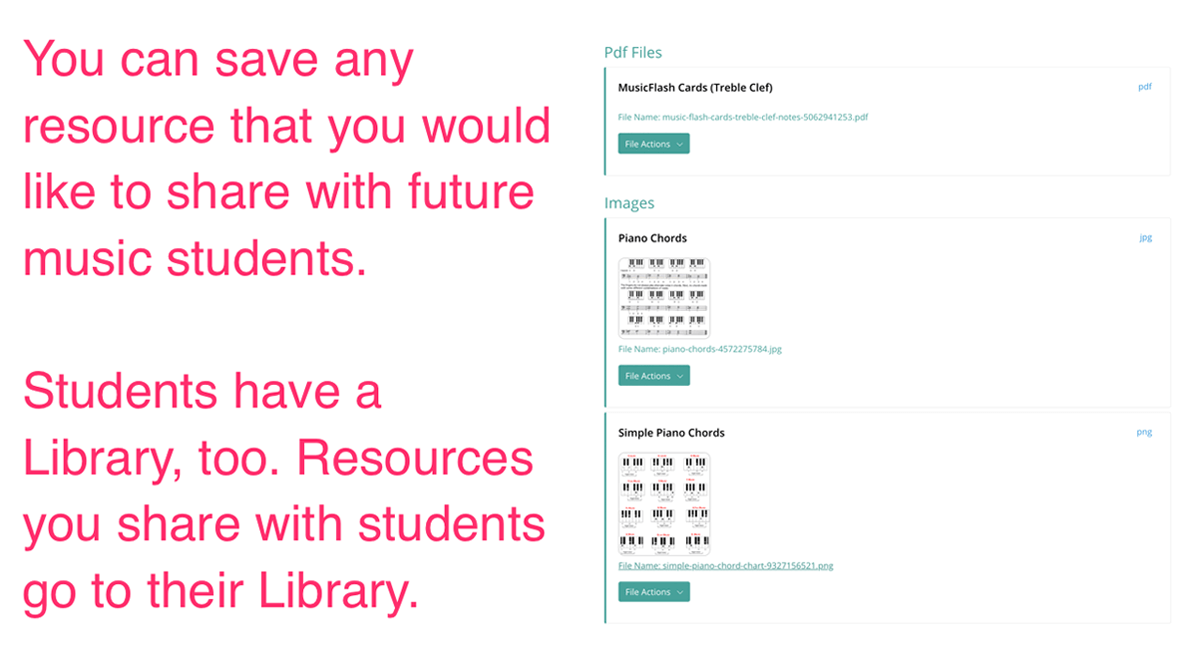 How to use links in your Library
There are thousands of resources on the web that you can use to help your students. It's easy to save links to your Private Library. Youtube videos, Quizlet and Quizzes links, and other web pages can easily be saved and shared with your students as needed. Think of this part of your Library as bookmarking web resources that you may want to share with your students in the future.