Return to FAQs page
---
Can a music studio owner manage other teachers who work at that studio?
Yes. MusicTeacherNotes is music teacher management software that helps music teachers manage their students, while also helping parents and students get more out of their music lessons. Families maintain their own accounts and can change music teachers as their situation changes. Music teachers also maintain their music teacher account and can plug in or unplug private music studios as their career demands.
For music studios who employ multiple music teachers, the teachers each have their accounts, as does the music studio owner. Each music teacher gives the music studio owner permission to oversee their students for that studio. If a teacher works for more than one studio, the studio owner can only supervise the teacher's students for the studio they manage.
If a music teacher ceases to work for a studio, then the students belong to the studio. The idea is that teachers need a system that allows them to manage their students better, no matter how many studios they teach for or how many times they change jobs. Teachers only need a single account to manage all of the students they teach throughout their lifetime.
Step 1: Navigate to the oversight section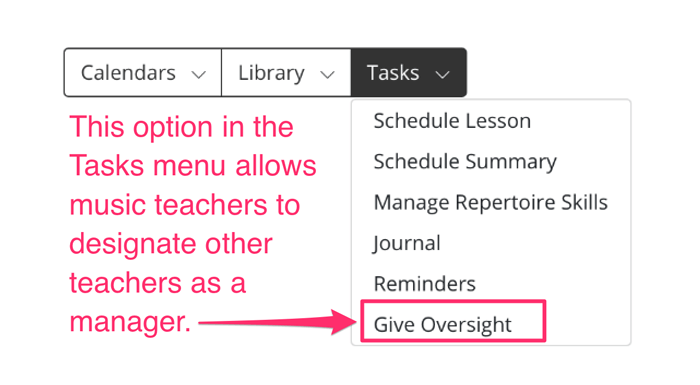 ---
Step 2: Choose the studio and enter the manager's email

---
Step 3: Verify the manager before saving