Return to FAQs page
---
How do I add assignments for my students?
To truly benefit from MusicTeacherNotes, students need their lesson assignments added to their account. Once music assignments have been added, students or parents can generate a structured practice plan and earn rewards as they work through the practice schedule. For example, if a piano student is assigned scales, and two or three songs to work on between lessons, those piano lesson assignments get added to MusicTeacherNotes, then converted to a structured practice plan. Students log their piano practice, and that earns them Music Bucks, Practice Stickers, and Achievement Awards.
Music teachers, parents, or students may add the music assignments from a music lesson to MusicTeacherNotes. If teachers prefer to write music assignments into a paper journal, they may do that. Students or parents can copy the assignments to the digital MusicTeacherNotes journal after the music lesson.
STEP 1: Navigate to the calendar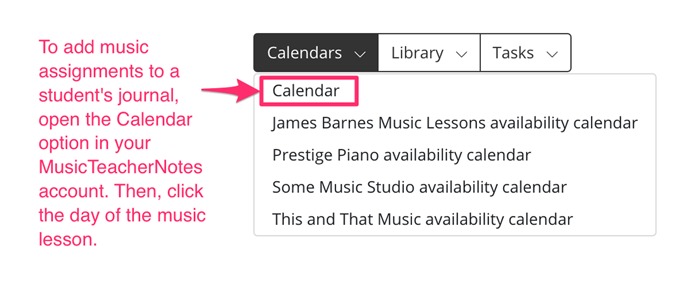 ---
STEP 2: Open the music lesson

---
STEP 3: Click the Add Assignments to Next Lesson section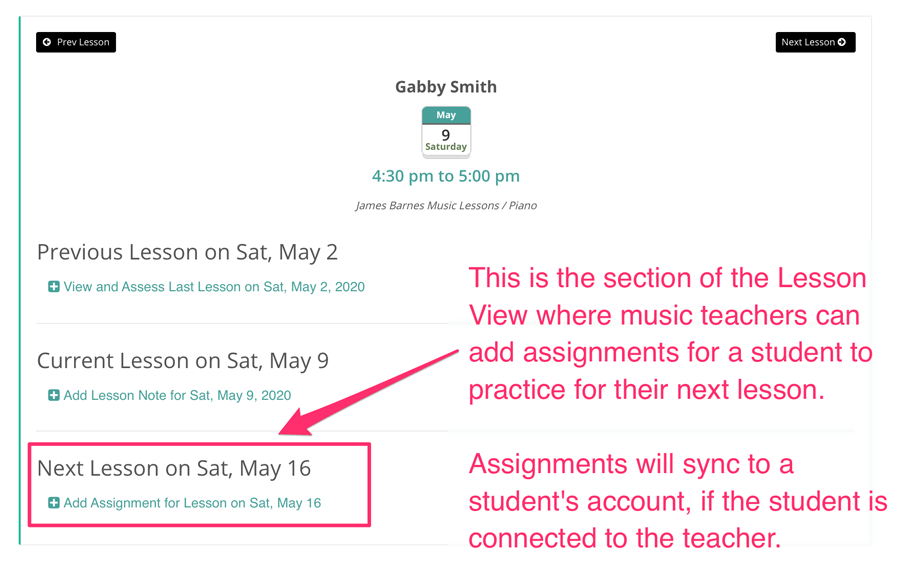 ---
STEP 4: Enter the music assignment
---
STEP 5: Repeat for each assignment

Once added, teachers and students can enjoy a wide range of benefits by having music assignments in digital format:
Assignments are saved electronically and do not get lost.
Assignments are searchable so that they can be found quickly.
Music teachers can quickly review assignments given to students before their next lesson. The teacher can then monitor the student's progress, and this also aids in the student's preparation.
Parents can generate a very structured practice plan from digital assignments using the Practice Plan Creator.
Students can practice more efficiently because the structured practice plan shows them exactly how they should practice and how long to practice.
Young students stay motivated to practice because of structured practice plans. The formal practice plans, coupled with the rewards that MusicTeacherNotes has for children, encourage and motivate young students to stay engaged in their music lessons for years to come.