Return to FAQs page
---
What if I don't add assignments to a student's online music journal?
MusicTeacherNotes is a lot of things, which tends to make it challenging to explain. The short answer is that MusicTeacherNotes is a suite of tools for music students, their parents, and their music teachers that make private music lessons even better.
One of the tools available on MusicTeacherNotes is an online music journal app. The journal is where teachers, parents, or students can enter music assignments. Assignments can be turned into a structured music practice plan.
When a student connects to a teacher's account, the teacher can easily add assignments to the student's music journal during a music lesson. This lets students know what to practice for their next lesson, and it provides a simple, searchable record of everything students have practiced in the past.
Adding an assignment is easy. Here are the steps:
Go to the calendar.
Select the day of the lesson.
Find the lesson.
Click the student and click "Open Lesson."
Click the option to add an assignment.

While it is best if teachers add these assignments for their students during a lesson, we built MusicTeacherNotes to work even if teachers do not add the music journal entries. Students or parents can add assignments to their family accounts, just like teachers can. And if your account is connected to the student, then you will see the assignments on your account, too.
Getting journal entries into the system is essential because they can then be added to a practice plan. The Practice Plan Creator doesn't work if assignments aren't added.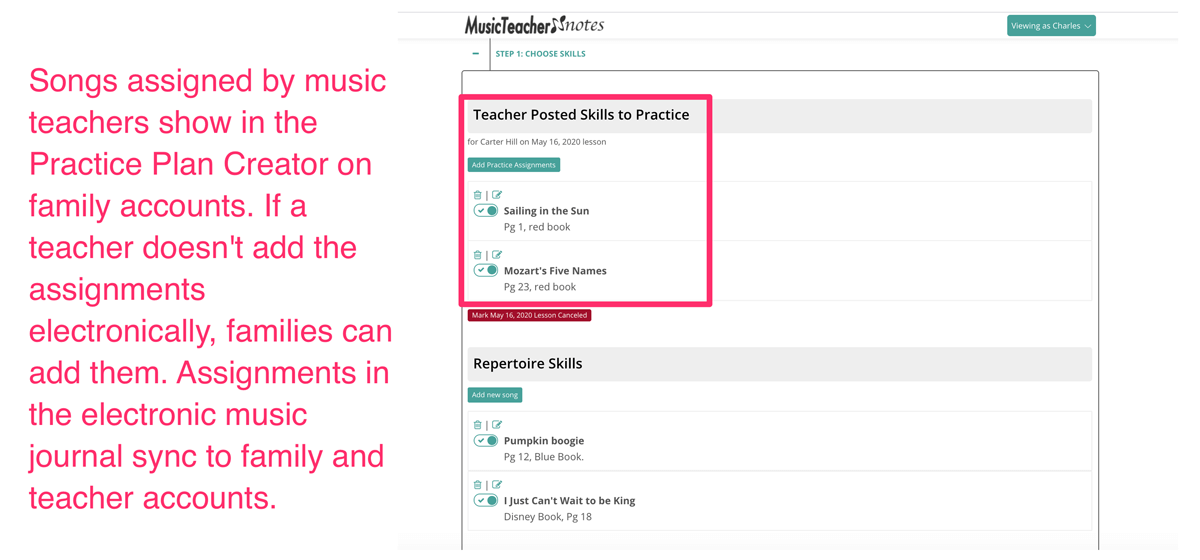 A practice plan helps students practice better because it permits students to know what to practice and how long to practice every skill they've been assigned. MusicTeacherNotes works for students who are learning any musical instrument, whether it be piano, guitar, or even vocal lessons.