Return to FAQs page
---
How do I get my students to connect to my teacher account?
MusicTeacherNotes incorporates a music lesson scheduling app to help music teachers with music school/lesson management.
The scheduling feature:
helps teachers see which students are coming to a lesson
which ones canceled
what they worked on in their previous music lesson
how much they practiced
and much more.
To enable all of that functionality, it is necessary to have students connect their MusicTeacherNotes account to their music teacher.
Adding students
Teachers can add students by merely clicking the Add Student link.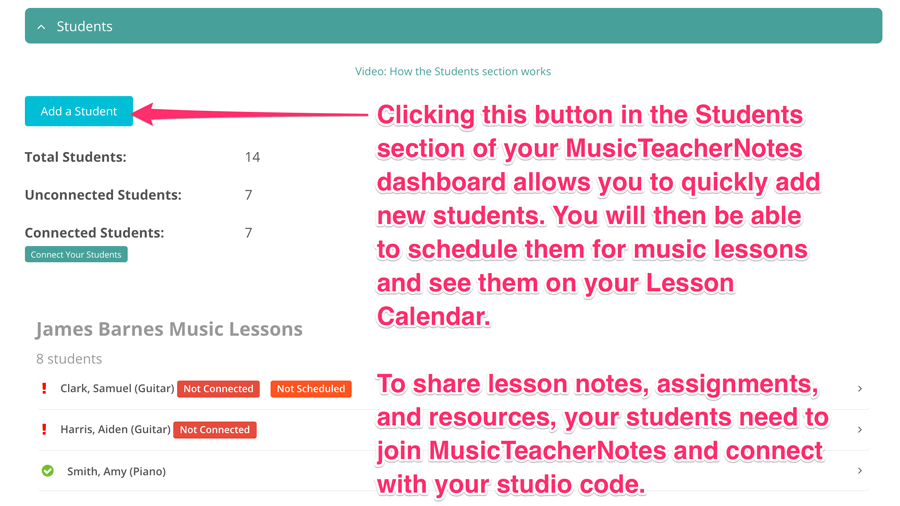 However, a student isn't connected to your account unless they enter your unique studio code on their account. Once they do that, their account connects to your teacher account, allowing you to interact with them as teacher and student.

You can find your unique studio code by going to the Dashboard, clicking Profile > Studio. Your studio code will display when you select the studio you are attempting to connect them to.
You can also find your studio code by clicking Students, then the student name. If a student is not connected, then the studio code you should give them displays under the student's name.
To connect, a family should register a free family account. A parent should join first, then add other family members. As they join, they should add students and connect the students to the appropriate teacher using the studio code that the teacher provides. The connect methods simplify that process, so teachers don't need to explain the details to each student or parent.