Return to FAQs page
---
What is the difference between adding students and connecting students?
MusicTeacherNotes helps music teachers manage their music lesson schedules. Adding students is a quick task; it only requires teachers to enter the name and music instrument of each student.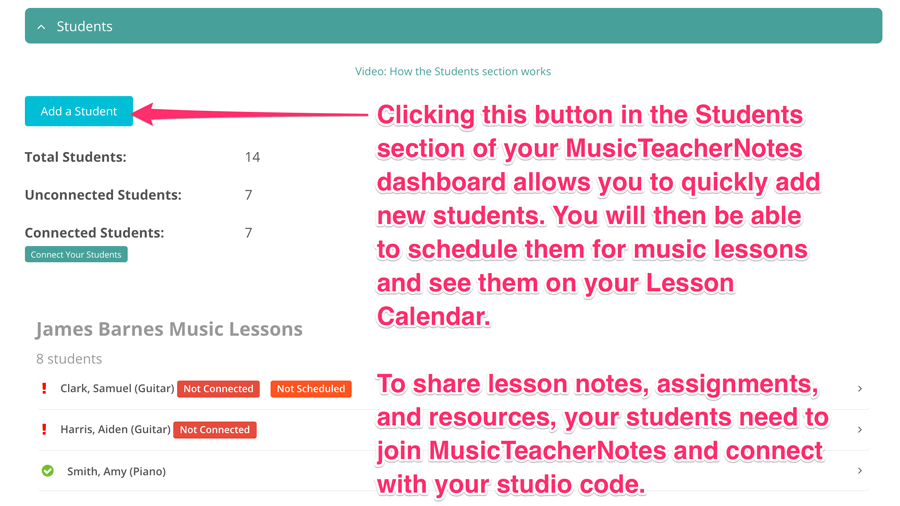 Once students are added, teachers can schedule them, so they appear on their Lesson Calendar. However, at this point, the student is not "connected," meaning the student cannot interact. Only the teacher can see the schedule when students are unconnected.
To "connect," a student or parent of a student needs to join MusicTeacherNotes, too. Students "connect" when they add you as their music teacher. To do that, they need your studio code.
You can find your studio code on your dashboard. Go to the profiles section and click on "studios." You are assigned a unique studio code for every studio you create in your account.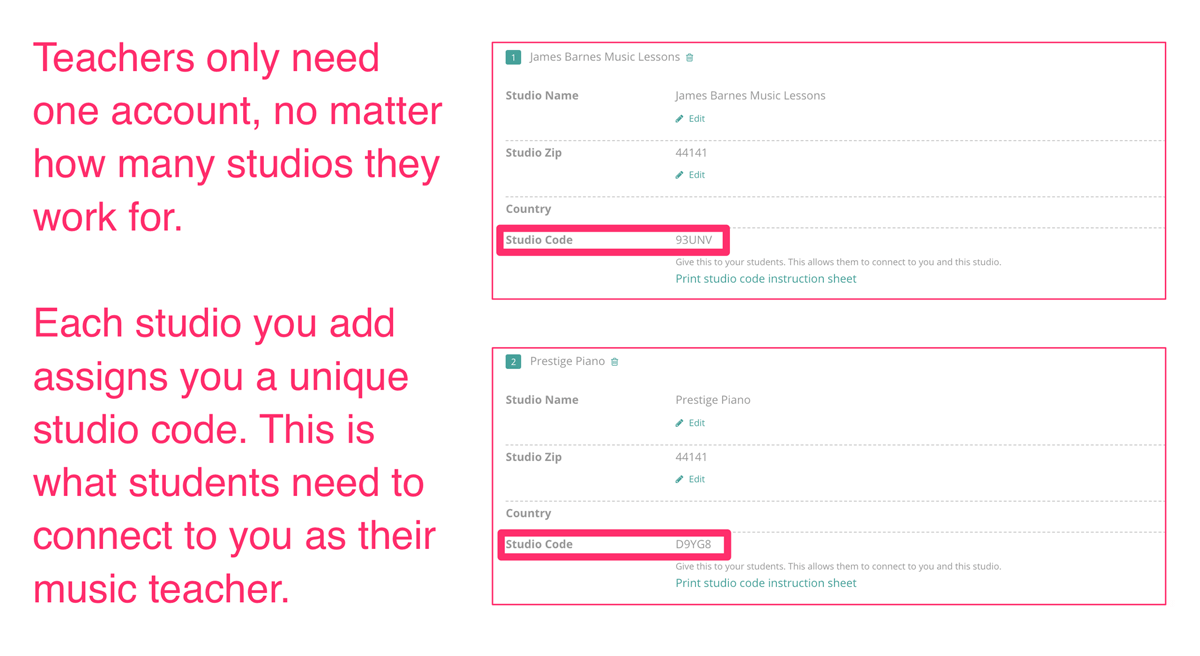 When your student enters your studio code on their family account, they link to you as their music teacher at that studio.
We also provide several "connect methods" that teachers quickly connect all of their students. Connect methods do two things:
They explain what MusicTeacherNotes is and why you are using it.
They provide your students with your studio code, so they can connect to you.
For example, one connect method is to use Welcome Sheets. You can print these and give them to your students during a lesson. The Welcome Sheets explain the MusicTeacherNotes website to your students, provides instruction on how to register a free family account, and gives them your studio code. A teacher can also email the Welcome sheets, text message the students, or verbally tell students how to join and connect.
The following videos explain how to connect your students.
CONNECT BY TEXTING INVITATIONS
CONNECT BY PRINTING WELCOME SHEETS
CONNECT BY EMAILING WELCOME SHEETS
Whether you've been teaching for some time, or are just considering starting a music school, MusicTeacherNotes music lesson studio software will help manage your music students easier. However, it is essential for students to connect because it's how students gain access to all of the features that MusicTeacherNotes offers families and music students.