Return to FAQs page
---
How do I add students to my MusicTeacherNotes account?
MusicTeacherNotes helps music teachers manage their music lesson schedules. To do this, music teachers need to add students so they can be scheduled on the music lesson calendar.
Students can either be "connected" or "not connected." If "students" are connected, it means they can interact with the student's schedule via their own MusicTeacherNotes account. If a student is not connected, it means teachers can see their schedule on their teacher account, but their account is not linked to the student's account, so students cannot see or interact with the schedule. For this reason, teachers should always have their students register a free account and connect to them using the teacher's studio code.
If you have a student to add, the best practice is to add the student immediately (not connected), then have them connect as time permits. This allows you to schedule them and ensures your Availability calendar is accurate and up-to-date.
To add a student without connecting:
Go to the dashboard
Open the "Students" section
Click Add Student button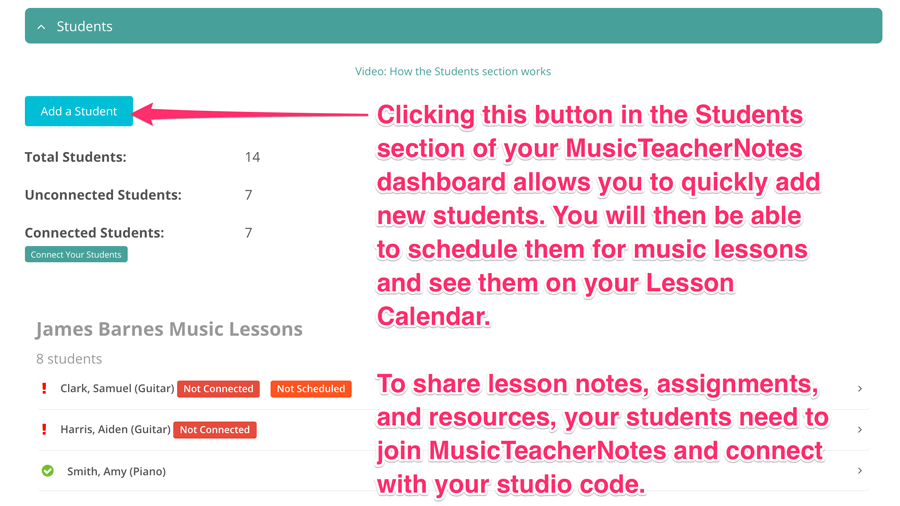 Adding a student only takes seconds to do. Then you can schedule lessons for the student, so they display on your calendar correctly. After that, you want to get the student connected. The simplest way to do that is to give them your studio code and ask them to join. To make this process easier, we've created "Connection Methods" that have your studio code and instructions for the student on them. You should print copies of the welcome sheets and hand them to your students, so they connect. The Welcome Sheets explain the MusicTeacherNotes website to your students and also provide them with your studio code.