Return to FAQs page
---
How do I add a student?
Adding a student to your MusicTeacherNotes account is easy to do. However, there are a few different things to consider.
Students can either be "connected" or "not connected." When a student is connected, it means they have a MusicTeacherNotes family account, and they have entered your studio code. Connecting is important because it allows you to interact with your music students. Connecting provides students with a bundle of tools to make private music lessons more productive.
Adding a student who is not connected:
Adding a student without connecting is just a matter of clicking the "Add a new student" button.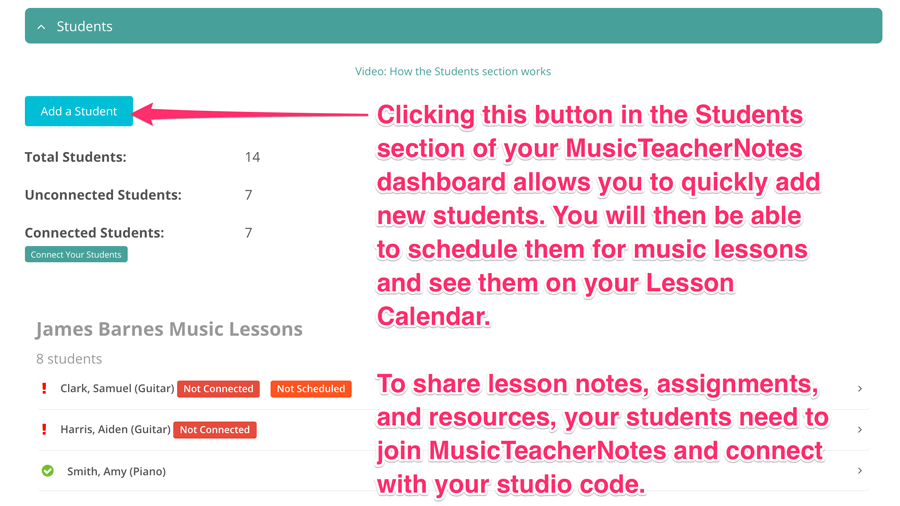 When you click that button, you will be prompted to enter specific information, such as the student's name, studio, and instrument. You can schedule unconnected students with the MusicTeacherNotes music school booking software, but your students or their parents cannot see the schedule until the register and connect to you.
Adding a connected student:
You don't really add a connected student. You "invite" and "accept" them. In other words, a student (or parent) can signup and attempt to connect to you using your studio code, which you provide to them. When they enter your studio code on their account, you will receive a notification that gives you an option to accept them. Once you accept them, they will be added as students to your account automatically. They maintain their profile, so you have no extra work to do on your end.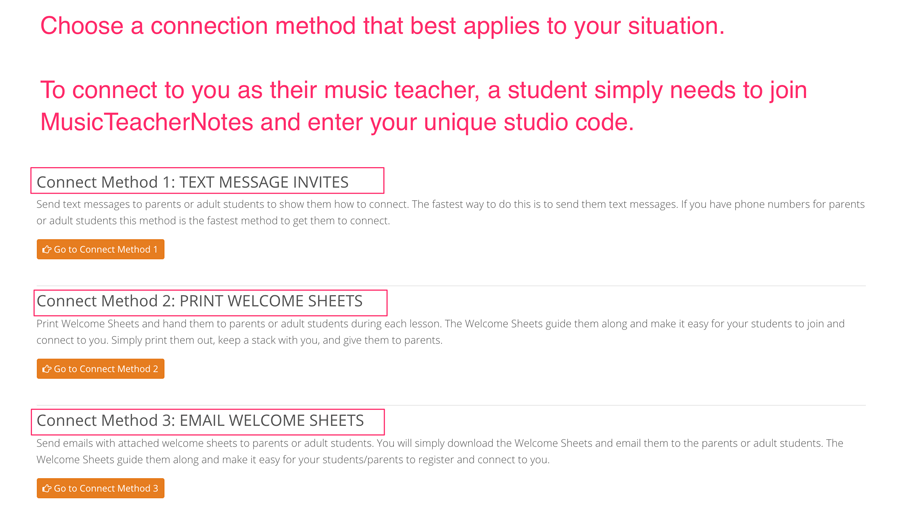 Eventually, you will want all of your students to be connected. Connecting students link their family account to your teacher account so you can interact, send messages and notes, share resources, and much more. If you don't connect, you can still manage those unconnected students you have on your schedule. However, you won't be able to share schedules, get notifications, add items to their music journal, share videos, or engage in most of the tools that MusicTeacherNotes has to offer.
MusicTeacherNotes is small business music school software for private music teachers, but it is also a tool for families to get a lot more out of private music lessons.