Return to FAQs page
---
What are the Practice Sticker games for music students?
Incentivizing younger students to practice their musical instruments is a common challenge faced by parents and music teachers. MusicTeacherNotes helps get kids to practice by using rewards as practice incentives. Music Bucks are the cornerstone of the Rewards system.
Practice Stickers work with Music Bucks, too. Every thirty minutes of practice randomly assigns one sticker to a student. They earn Practice Stickers in their sticker collection. There are 200 different stickers that can be earned. The same Practice Sticker can be collected many times. For example, assume a student has been playing for several years and has logged 1000 hours of practice. That student would have 2000 Practice Stickers in their sticker collection. Since there are only 200 stickers total, that means they probably have 10 of the same stickers in their sticker collection. They are randomly assigned, so students could have more than ten or less than ten. You get the idea.
So how does this relate to Music Bucks? There are a few music practice games that use Practice Stickers to win Music Bucks for a student.
The Super Sticker Game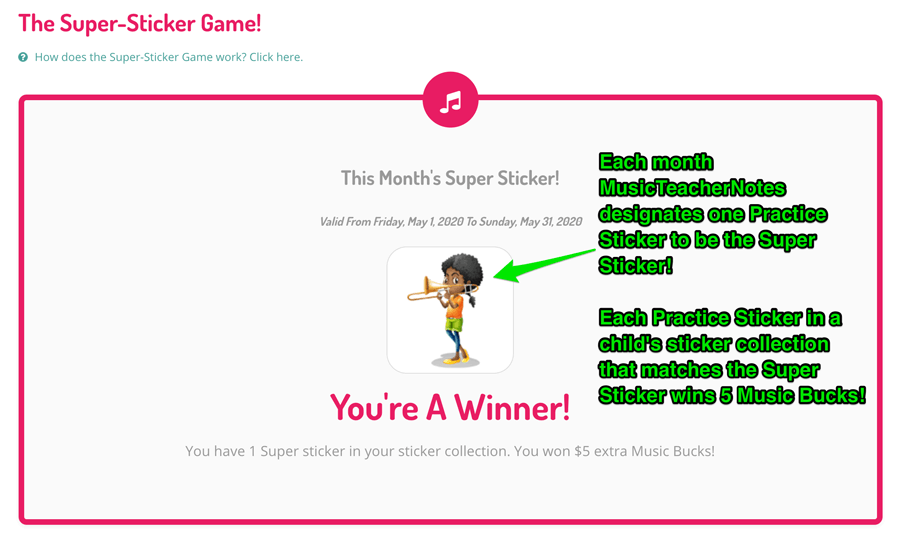 Each month, one of the 200 stickers is randomly chosen to be the Super Sticker for the month. If students have the Super Sticker anywhere in their sticker collection, they earn $5 Music Bucks! Think of each sticker as a raffle ticket. Each one is a chance to win $5 Music Bucks, and each thirty minutes of logged practice earns another sticker.
The Sticker Capture Game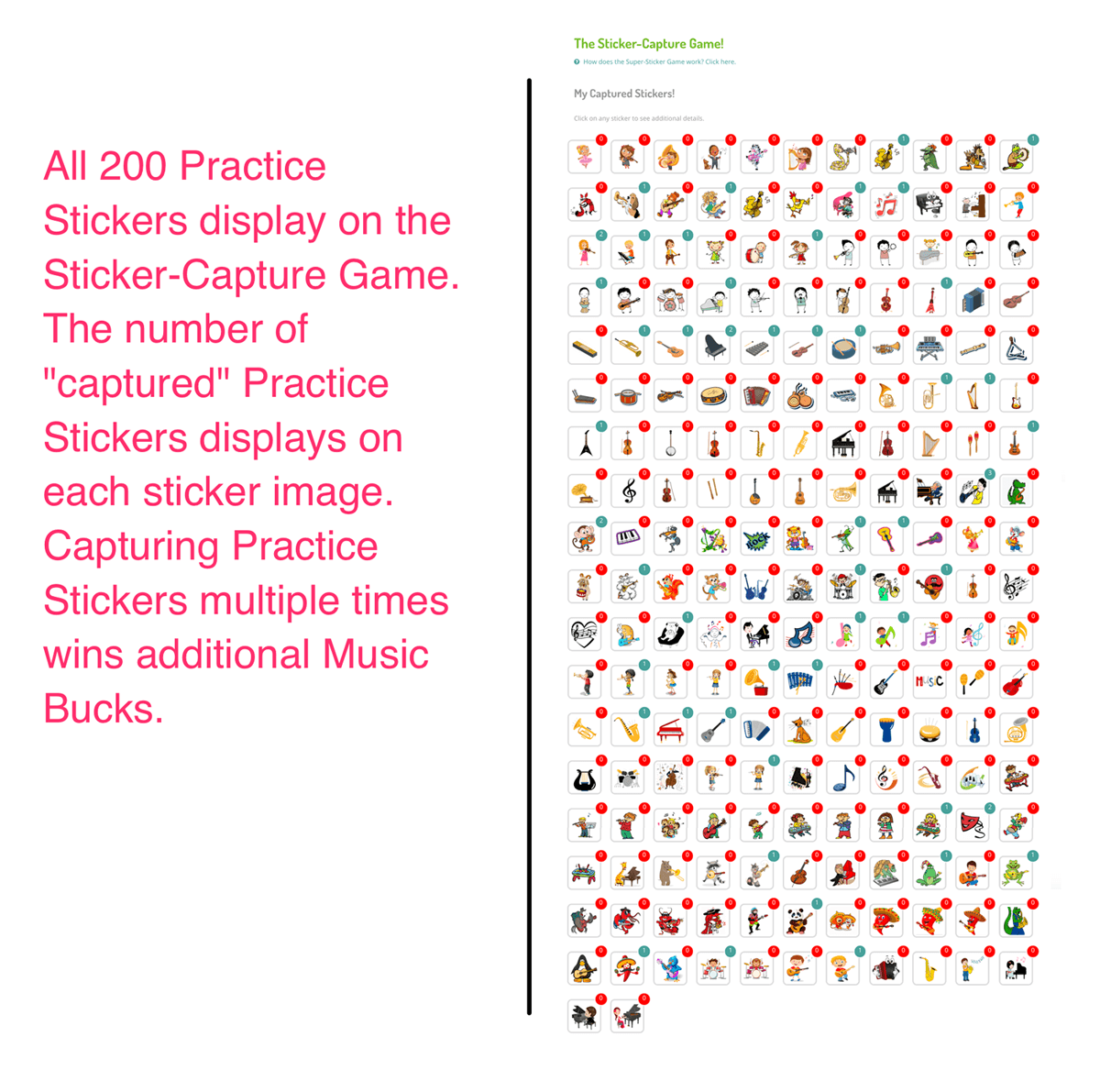 The more times young students "capture" certain stickers, the more Music Bucks they can win. For example, if they capture a specific sticker twice, they win some Music Bucks. If the capture the same sticker three times, they win more. The following list shows how much.
Pairs [2 Music Bucks]
3 of a kind [3 Music Bucks]
4 of a kind [4 Music Bucks]
5 of a kind [5 Music Bucks]
6 of a kind [6 Music Bucks]
7 of a kind [7 Music Bucks]
8 of a kind [8 Music Bucks]
9 of a kind [9 Music Bucks]
10 of a kind [10 Music Bucks]
11 or more a kind [11 Music Bucks]
1 of every sticker of all stickers [1000 Music Bucks]
2 of every sticker of all stickers [1000 Music Bucks]
3 of every sticker of all stickers [1000 Music Bucks]
These games make it so kids want to practice because they can buy Practice Rewards with their Music Bucks.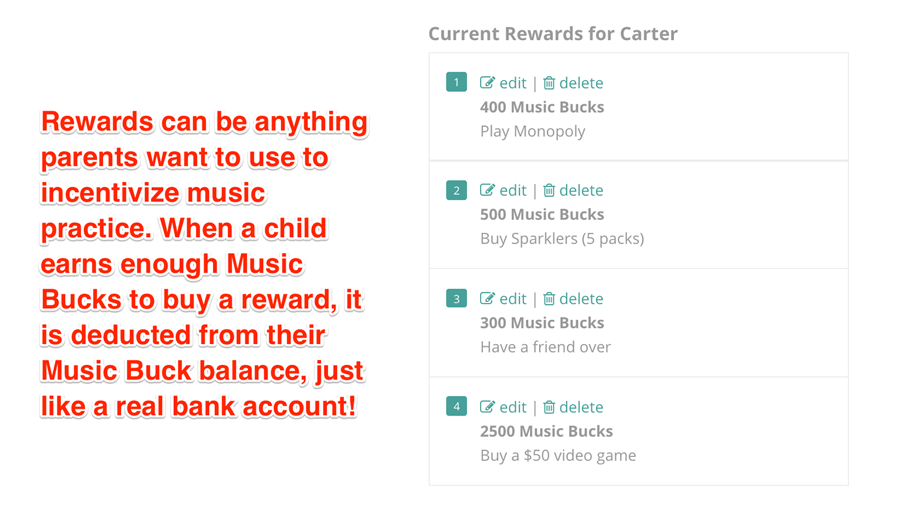 A Practice Reward is set up on a parent's account and can be anything they think might motivate their kids to practice. When thinking about how to motivate a child to practice their instrument, think about the things they want that you'd be willing to give if they succeed. For example, a parent might create the following Practice Reward:
Go out for ice cream: 400 Music Bucks
When the child earns 400 Music Bucks, he can buy the Practice Reward.