Return to FAQs page
---
How do I add rewards that my child can buy with Music Bucks?
Parents who struggle to keep their child interested in music can use the MusicTeacherNotes reward feature to overcome that problem. Many parents sign kids up for piano lessons only to discover that getting them into a routine practice schedule is difficult. Many younger kids argue and delay practice, leading to under-practicing and causing parents to feel frustrated.
Private music lessons can be one of the best investments a parent can make for their child. However, it's important to motivate kids to practice in a positive way. Music Bucks and Practice Stickers are fun tools to help do that.

What are some examples of rewards for practicing music?
Music Bucks are a pretend currency that children "earn" when they practice. However, "pretend" probably isn't the best word because students can actually "buy" things with their earned Music Bucks. Parents create "rewards" that children can buy with Music Bucks. These are some examples of rewards you could create that kids can buy for practicing music:
Dinner at your kid's favorite restaurant
A movie night
A video game
Having a friend over
A sleepover
A playdate
A water balloon fight
Stay up late
Serve your kid's favorite meal
A new toy
Go out for ice cream
A treat
Play a board game
Plan a night out to a fun place
Go to a trampoline park or similar place near you
How much should rewards cost?
Determining the price of a reward begins with considering how often you wish to honor each reward. A good rule-of-thumb is to assume a child can earn about 100 Music Bucks in a week if they practice 30 minutes per day. For example, suppose you create a reward to play Monopoly at 400 Music Bucks. Assume you also create a reward to buy a $50 video game at 2500 Music Bucks. It would take the child about one month to earn the Monopoly Board Games reward and six months to earn the video game. If the child spends the 400 Music Bucks to play Monopoly, 400 Music Bucks are deducted from the child's account, meaning it will take longer to attain the more expensive reward. Music Bucks behave just like real money, teaching kids to appreciate the value of money while also incentivizing them to practice music. Parents have complete control of rewards and their "prices."
To add new items, click the Reward Manager link in the tasks menu. Enter a name and the cost for the reward.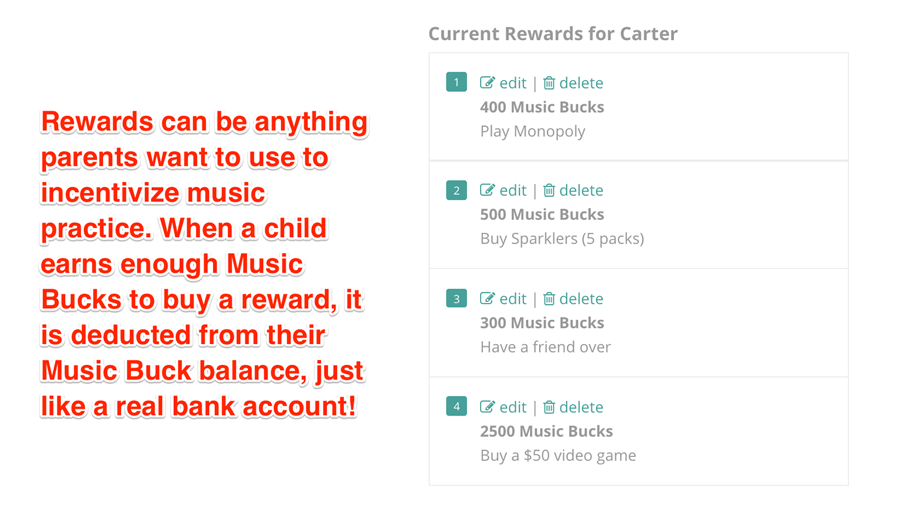 Children will see it on their account, and they will be able to see how close they are to earning the item.