Return to FAQs page
---
How can MusicTeacherNotes help parents motivate their kids to practice?
MusicTeacherNotes uses positive reinforcement to keep a child interested in piano, guitar, violin, or whichever musical instrument they are learning to play. Motivational rewards are set up by parents, and children earn them by practicing music.
There are three primary rewards, awards, that we provide to parents to encourage their children to practice their instrument. The three reward/awards are:
Music Bucks
Stickers
Achievement awards
MUSIC BUCKS
Music Bucks look a bit like play money that we played with as children, except kids really buy things with Music Bucks. Kids earn Music Bucks by practicing music. A child's Music Buck account grows and grows until they've earned enough to buy something. What can kids buy with Music Bucks? Parents decide that. Parents can add any reward they think might motivate their kids to practice, and parents also determine the Music Buck value for each reward. To keep it simple, assume it takes about one week for a child to earn 100 Music Bucks, and also assume your child loves a night out at the movies. You could set up the following reward:
Night out at the movies: 400 Music Bucks
It would take about four weeks of solid music practice for your child to earn enough Music Bucks to buy that reward. Once they spend it, the 400 Music Bucks it deducted, and the child has to keep practicing to earn additional rewards.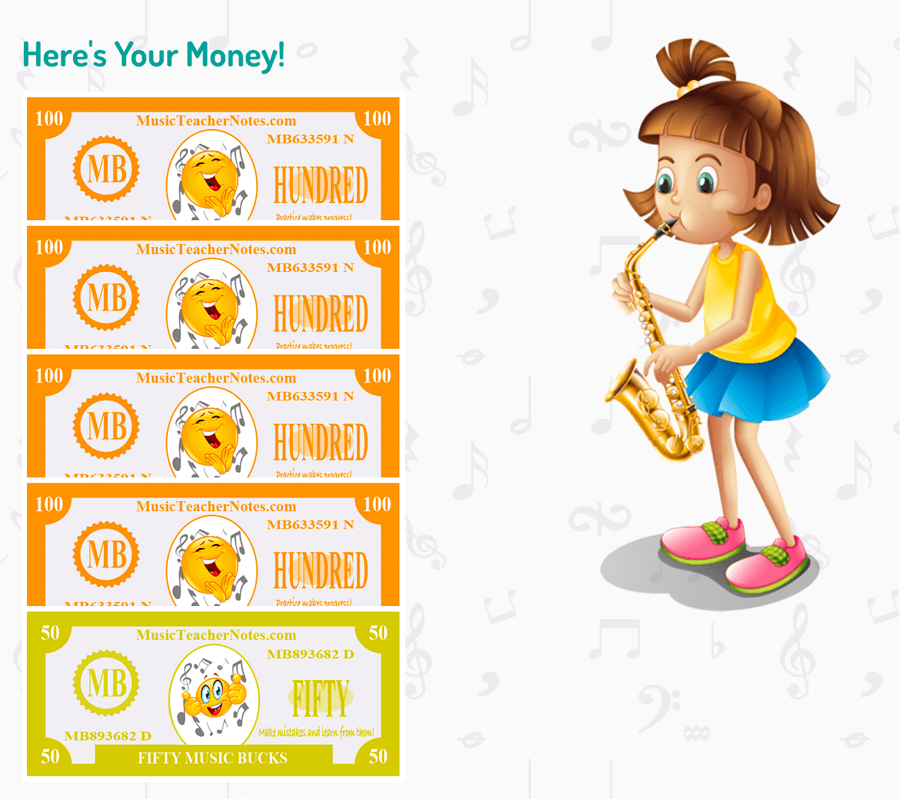 PRACTICE STICKERS
The second reward system use "Practice Stickers." Students earn Practice Stickers automatically for every 30 minutes of practice logged by the student. Stickers are distributed randomly because several games involve different combinations of stickers. Winning those games earns kids Music Bucks, too!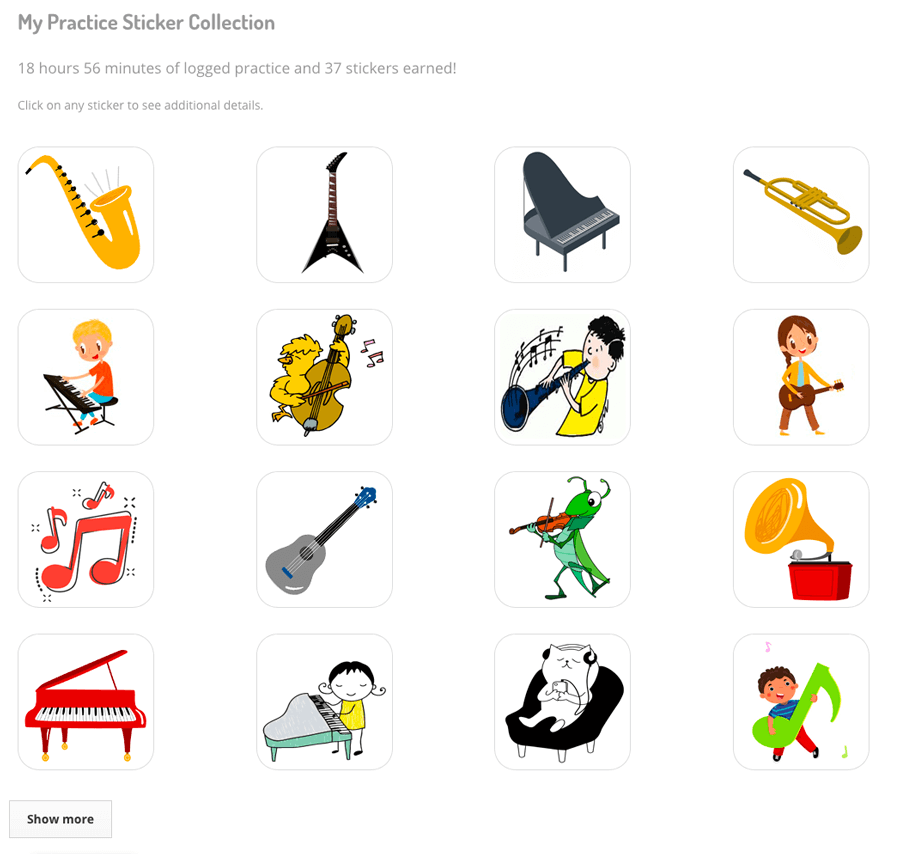 ACHIEVEMENT AWARDS
The third reward system is the achievement section of the reward account page. For example, each time a child completes a practice plan, they earn the Perfect Practice Award.
Children have their own child-friendly account. Child accounts are linked to their parents and to their private music teacher. Child accounts are designed to enhance positive reinforcement, so kids want to practice music. For example, when a child completes a practice plan, earns a Super Sticker, or buys a reward, they'll see confetti all over their screen, encouraging them to continue their hard work.
These rewards, coupled with the parent's words and encouragement and support, have proven to be very useful in keeping children engaged and highly motivated in learning music.