Return to FAQs page
---
Can parents and children be logged in via the same browser?
There can only be one active login to MusicTeacherNotes at a given time within an internet browser. If you aren't familiar with the term "internet browser," the following are examples:
Firefox

Google Chrome

Safari

Internet Explorer
For example, assume you log into MusicTeacherNotes as a parent using Google Chrome. You cannot open another browser tab using Google Chrome and login as a student. You could, however, open another internet browser, like Firefox or Safari, and log in as the student in that other browser on the same computer.
Parent accounts also have a quick way to log in as a student. In the main menu, click the "login as" button, and choose the student to log in as.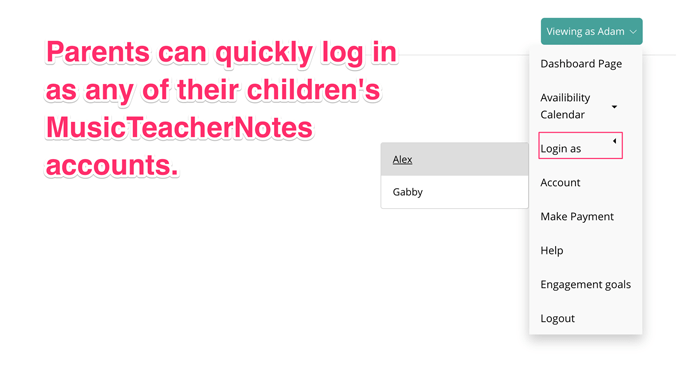 You will instantly be logged in as that student, and you can click the "login as a parent" option to return to the parent account. To go back to the parent account, you will have to reenter your password.
One strategy parents can employ is to print the practice plan and have it available for the child to write on. Then parents or students can log in and record the practice time later. If you open the practice journal and click on a day's practice, you will see a print option. This opens a pdf of the practice plan, which you can print.